Students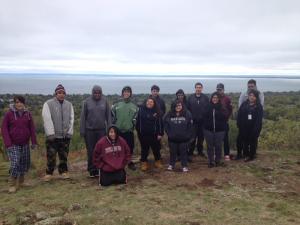 Nawayee is an Ojibwe word that means "the center" and at Center School we work with students to find their center and find our collective center in the Indian community.  
Who attends NAWAYEE Center School?
Nawayee is open to students in grades 7-12, ages 12-19.  Most students are American Indian.  Some students attend Center School because they have experienced problems in the regular public school system.  Some are considered at risk under MN Statue 126.22.   Center School provides a fresh start with small classes and a culturally focused curriculum.
Many students choose Center School because they value the close relationships with teachers, the emphasis on indigenous education and the many field trips and enrichment opportunities.
Minneapolis Public School personnel, parents, and community members may refer students and many students are self-referred.