Enrollment at Nawayee Center School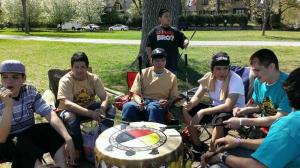 Nawayee is an Ojibwe word that means "the center," and at Center School, we work with students to find their center and find our collective center in the Indian community. Nawayee (Center School) provides a culturally contextualized learning environment rooted in Indigenous lifeways.
Many students choose Center School because they value the close relationships with teachers, the emphasis on indigenous education, and the many field trips and enrichment opportunities. Center School inspires a sense of direction within the circle of life, from which students discover strength, purpose, and vision. In support of this, we integrate Cultural Arts, Indigenous Languages, and Lifeways into all of our curricula. High-quality, culturally specific education services are available in small class sizes while also offering extracurricular learning opportunities including internships, outdoor learning, and hands-on learning experiences.
Nawayee is open to students in grades 7-12, ages 12-19.  Most students are American Indian.  Some students attend Center School because they have experienced problems in the regular public school system.  Some are considered at-risk under MN Statue 126.22.   Center School provides a fresh start with small class sizes and a culturally-centered curriculum.
FILL OUT AN APPLICATION TODAY TO BEGIN YOUR ENROLLMENT!
​Contact us to schedule an interview and complete our enrollment process:
Main Office: 612-721-1655, ext 11
Mardryka Adzick | Academic Coordinator
Phone: 612-465-9179 | Email: mardryka.adzick@centerschool.org
Nick Miller | Student Engagement 
Phone: 612-465-9946 | Email: nickolas.miller@centerschool.org
Minneapolis Public School personnel, parents, and community members may refer students and many students are self-referred.