Center School Programs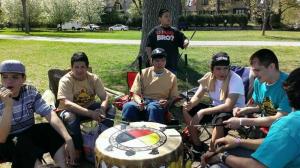 Accredited junior and senior high school classes
Prevention teachings and activities that promote chemically healthy lifestyles
Youth leadership through a joint decision-making partnership between staff and students
Opportunities to develop and strengthen cultural pride through daily practice of positive cultural values
Small classes that allow students to learn more about their culture such as Ojibwe/Dakota Language, Native Issues, Drum Group.
Summer school that features gardening and outdoor education.
Current Programs: 
Healthy Choices Program
The Healthy Choices Program provides an integrated approach that includes:
1) Screening and follow-up: The Native American Community Clinic provides four screenings per year. NACC also provides consultation services on data gathering and management, and speakers on health education issues. Screenings are conducted in a health fair format that encourages attendance and provides students with access to more information and opportunities.  Students with high-risk indicators such as obesity or a family history of diabetes, and those demonstrating abnormalities in tests are followed closely by the home/school liaison and by NACC.
2) Nutrition education and healthy meals: Students are encouraged to make healthier choices through nutritional information presented in the context of Native American culture. Students now drink less than two sugary drinks per day, a significant change.   The school serves healthy meals through a contract with a private caterer.   We see a substantial increase in the number of students requesting and eating whole foods such as fruit and vegetables and grains.  
3) Exercise: Our students have less access to organized athletics or activities that require transportation or equipment. We developed a varied exercise program to adress that need. This includes basketball, weight training, yoga, drumming, dancing and outside activities that include orienteering, canoeing, biking and rock climbing.  We partner with several local organizations to provide regular opportunities for structured exercise and fitness training. Students engage in physical activity at least five hours per week with many students exercising eight hours per week. The entire school participates in the annual spring Mde Maka Ska, a celebration of the sacred Native connection to water and canoes at Lake Calhoun.
4) Health Education: Health education includes general health and reinforces the importance of exercise and abstinence from alcohol, drugs and cigarettes. The curriculum looks at health holistically, as we focus on mental, physical, emotional and spiritual health. Our health curriculum includes bringing in guest presenters who share their knowledge and experiences of striving for good health.
5) Garden:  Launched in 2006, the Indigenous Garden engages students in growing their own food. Students also worked with area artists to design and paint a large mural on the south wall next to the garden. New components are added each year. The garden has received awards and recognition from the National Garden Association, the Minnesota State Horticultural Society, the StarTribune and other local media.
Children of the Seventh Fire Initiative: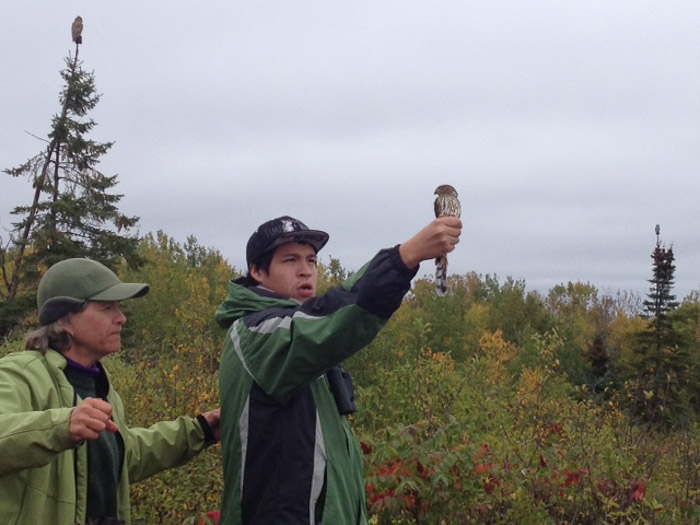 To address the many risk factors faced by Native youth, Center School developed a proactive approach we call Children of the Seventh Fire Initiative. Children of the Seventh Fire is an Ojibwe prophecy warning of dire human, economic and ecological consequences; the elders will fall asleep and their children will lose their way until the community "wakes up" and responds to their needs.
Many of our children have lost their way; teen pregnancy and risky, unhealthy sexual behavior are ways in which our children and their children become lost to us. Our goal is to reclaim these lost children and prevent Others from becoming lost. When the Children of the Seventh Fire Initiative began six years ago, it was offered only to girls at the school. After the girls program was launched, male  students requested a similar program, girls suggested that the boys could use it and parents began calling the school, requesting help for their children.
The boys program was launched three years ago.The curriculum is similar for boys and girls, but the classes themselves are taught separately. The centerpiece of the program is a twice weekly class that All students take for ten weeks, then continue less frequently for three more trimesters, to ensure long term exposure to health and reproductive education. Classes explore issues of reproductive health in the context of overall mental/physical/emotional/spiritual health, all through the lens of Native wisdom and traditions.
The program encourages participation by outside speakers, teachers, health professionals, and community elders.  We believe it is both sexist and inefficient to put the burden of pregnancy prevention on girls only. In addition, a girls only approach ignores cultural traditions in the Native American community that tell us that boys must prove their ability to take care of themselves before "earning" the right to start family. Our focus on both girls and boys reaffirms cultural perspectives on men and women's roles in the community and honors their unique place in Native American traditions. For all of these reasons, we saw better outcomes for our students when the program began supporting both genders three years ago. By offering separate classes for boys and girls, we create a safe, more mature and honest classroom experience. Focusing on both genders is a core component of Children of the Seventh Fire Initiative.
Experiential Learning Program 
Experiential programing includes adventure-based opportunities including backpacking, canoing, rock climbing and kayaking as well as an integrated field trip program where coursework in the academic subject areas is enriched with creativley structured field experiences such as: water quality testing in local streams and lakes, outdoor astronomy lessons, visits to Indigenous sacred sites and attendance at local productions of plays, stories and books studied in Literature clases.
There is also a well-developed Internship  program where students can build their resumes and gain valuable experience in the work force learning life and job-specific skills. The idea behind it is that our students learn best from experience and when immersed in the subject material through a multi-faceted teaching and learning approach. The internship program offers paid internships linked to classroom credits to help them prepare for life beyond graduation.