Enrollment at Nawayee Center School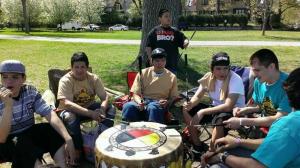 Nawayee is an Ojibwe word that means "the center" and at Center School we work with students to find their center and find our collective center in the Indian community. 
Many students choose Center School because they value the close relationships with teachers, the emphasis on indigenous education and the many field trips and enrichment opportunities.Center School inspires a sense of direction within the circle of life, from which students discover strength, purpose and vision. High quality, culturally specific education services are available in small class sizes while also offering extra curricular learning opportunities including internships, outdoor learning and hands on learning experiences.
Nawayee is open to students in grades 7-12, ages 12-19.  Most students are American Indian.  Some students attend Center School because they have experienced problems in the regular public school system.  Some are considered at risk under MN Statue 126.22.   Center School provides a fresh start with small classes and a culturally focused curriculum.
TO FILL OUT AN APPLICATION AND SCHEDULE AN INTERVIEW, CONTACT:
Mary Cullen
612-721-1655 Ext. 11 mcullen@centerschool.org
Contact our office for more information at:
612.721.1655 ext 11
Minneapolis Public School personnel, parents, and community members may refer students and many students are self-referred.